Recipe2 LINK
Recipe3 LINK
Recipe4 LINK

If yer hungry, come here and read the recipes

HOT CRAB DIP

1 PKG OF CREAM CHEESE
ONE MEDIUM ONION, DICED
ONE HEAPING TEASPOON HORSERADISH
ONE CAN WHITE CRABMEAT WITH JUICE (CHECK FOR SHELLS)
ONE OR TWO DASHES OF TABASCO SAUCE
FEW DROPS LEMON JUICE
CREAM ALL TOGETHER AND PUT IN BUTTERED SHALLOW GLASS DISH BAKE AT 350 DEGREES FOR 20-25 MIN OR TILL BROWNED ON TOP SERVE ON HOT FRENCH OR ITALIAN BREAD BE THE HIT OF THE PARTY......NEXT.....PARMESEAN CHICKEN ..WATCH FOR IT...GOOD TO SERVE WITH ABOVE UMMMMMMMMMMM

COUNTRY STYLE STEAK AND GRAVY

GET SOME CUBE STEAKS, A PACK OF FIVE OR MORE...
PUT SOME FLOUR AND GARLIC POWDER, SOME HAMBURGER SEASONING, SALT AND PEPPER IN A BAGGIE LARGE ENOUGH TO SHAKE THE STEAKS IN.
THEN SET ON A PLATE THE COATED STEAKS.
HEAT SOME OIL, ABOUT 1/4 CUP, TO MEDIUM.
FRY STEAKS TILL GOLDEN BROWN AND PLACE IN A DEEP DISH WHICH HAS A LID.
PUT TATERS ON TOP... TAKE SOME BOUILLION, BEEF, ABOUT TWO CUPS, AND ADD TO THE HOT OIL AND LEFT-OVER FLOUR IN THE PAN, STIRRING TILL HEATED TO BOILING.
ADD A MIX OF CORN STARCH AND WATER IN A THICK PASTE TO THICKEN THE GRAVY. POUR ALL OVER THE MEAT AND TATERS 'N SEAL WELL 'N BAKE AT 350 DEGREES FOR ABOUT AN HOUR. GOOD WITH ONIONS, TOO ..UMMMMMMMMMMM

PARMESIAN CHICKEN

DONE BEST WITH WINGS WHICH ONE MUST CHOP IN HALF AND MAKE INTO SMALL DRUMMETTES BUT A PAIN IN THE ARSE..SO USE SMALL DRUMMETTES INSTEAD OR ANY PARTS ..JUST ADJUST THE COOKING TIME FOR SIZE. TAKE PACK OR PACKS OF SMALL CHICKEN DRUMMETTES AND PLACE IN MIX OF: (DEPENDIN0G ON NUMBER OF DRUMMETTES- I USE TWO TO THREE PACKS) LARGE CONTAINER OF PLAIN YOGURT
TWO HEAPING TSP OF FRESH GARLIC MINCED
TWO TSP DIJON MUSTARD
CAPFUL OF LEMON JUICE OR A TSP, IF FRESH TSP DRIED SAGE
LET SIT HOUR OR MORE ROOM TEMP OR OVER NITE IN REF..
TAKE CHICKEN OUT OF MIX AND SHAKE IN BAG OF :
HALF ITALIAN STYLE BREAD CRUMBS MIXED WITH HALF GRATED PARMESEAN CHEESE (I USE A BIT LESS CHEESE)
DASH OR THREE OF CAYENNE RED PEPPER
PLACE ON BUTTERED COOKIE SHEETS DRIZZLE ALL WITH MELTED BUTTER
BAKE AT 350 FOR ABOUT 30 MIN FOR SMALL DRUMMETTES 'N LONGER FOR LARGER PIECES..UP TO 50 MIN, DEPENDING ON SIZE
SERVE WITH HOT FRENCH BREAD WITH HOT CRAB DIP (ABOVE) AND TOSSED SALAD WITH OLIVE GARDEN DRESSING! UMMMMMMMMMMM

SCALLOPED OYSTERS

PREHEAT OVEN TO 350 SERVES 6
HAVE READY:
1 QT SHUCKED OYSTERS IN THEIR JUICE
AND IN A DEEP, BUTTERED DISH, CASSEROLE, MIX TOGETHER:
2CUPS COARSELY CRUSHED SODA CRACKERS
1 CUP DRY BREAD CRUMBS
3/4 CUP MELTED BUTTER
PLACE IN THE BOTTOM OF THE CASSEROLE A THIN LAYER OF THE CRUMB MIXTURE. COVER IT WITH HALF OF THE OYSTERS. POUR OVER IT HALF OF THE FOLLOWING MIXTURE:
1 CUP CREAM
seasoned lightly with :
NUTMEG
SALT AND PEPPER
CELERY SALT
FOLLOW WITH 3/4 OF THE REMAINING CRUMBS AND THE REST OF THE OYSTERS. POUR THE OTHER HALF OF THE SEASONED CREAM OVER THE OYSTERS AND COVER WITH THE REMAINING BREAD CRUMBS. BAKE 20-25 MIN. ..UMMMMMMMMMMM

SAUSAGE STUFFING

USE A GOOD SAUSAGE...WE USE NEESE'S EXTRA SAGE...FRESH, NOT FROZEN
FRY YOUR POUND OR MORE SAUSAGE WITH SOME CHUNKED CELERY AND ONIONS KEEPING VEGGIES SOMEWHAT CRISP
ADD SOME EXTRA GROUND OR CRUSHED SAGE IF YOU DON'T HAVE SAGE SAUSAGE
MAKE SOME CHICKEN BOUILLION UP TO ADD TO THE MIX LATER..I USE TWO CUPS N USE WHAT I NEED
PUT IN LARGE BOWL YOUR STUFFING CRUMBS, I USE PEPPERIDGE FARMS HERB MIX, FOLLOWING DIRECTIONS ON BAG FOR AMT BUTTER N BOUILLION
ADD IN THE SAUSAGE N VEGGIES N STIR THEN PUT ALL IN EITHER FOIL OR IN GREASED CASSEROLE OR PAN..
BAKE IN 350 OVEN FOR 45 MIN OR SO TO HEAT (END OF TURKEY TIME)
SERVE WITH TURKEY 'N GIBLET GRAVEY
UMMMMMMMMMMM

GIBLET GRAVEY

TAKE OUT ALL THE INNARDS OF YER BIRDIE N PUT IN ABOUT THREE TO FOUR CUPS OR MORE WATER, DEPENDING ON HOW MUCH GRAVEY YOU WANT TO MAKE.
BOIL ON SIMMER AFTER ADDING SOME FRESH CRUSHED OR MINCED GARLIC AND SOME GROUND SAGE , CHICKEN BOUILLON, AND SALT, PEPPER.
WHEN COOKED THOROUGHLY, TAKE OUT THE GIBLETS AND MINCE UP AND SHRED MEATS AND REPLACE IN THE BROTH.
BRING TO SIMMERING BOIL AND MIX IN A BLENDED PASTE OF COLD WATER N CORN STARCH...WHIPPING AS YOU ADD TO MAKE GRAVEY SMOOTH.
SERVE OVER TATERS, TOIKEY, STUFFING, AND EVEN SCALLOPED OYSTERS..HELL, PUT IT ON THE CRANBERRIES IF U WANT!
MMMMMMMMMMMMMMMMMMMMM


3 HOUR CAMP EGGS

3 hour camp eggs
1 grill small facing wind
1 pan lined with tinfoil
8 eggs
9 sausages
In the grill use charcoal and any leftover fire wood that can be stuffed into the small firebin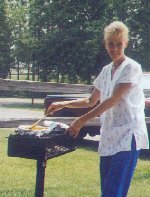 Karie's as perpetual cook

mix eggs and pour on foiled pan with sausages on the side
sit down smoke a cigarette have a coffee then check eggs
look worried sit back down
have coffee smoke cig then check eggs look worried
stuff more wood in fire squirt with zippo lighter fluid light
do camp dishes clean area up check eggs stir the eggs they should be like soup by now
have cig more coffee chat with hungry friends
walk to bathroom come back check eggs
get eating places ready look at eggs and swear
have juice and cigarette worry how it's almost lunch time
check eggs stir by now notice slight coagulation
look at guests looking at eggs
serve before all possibility of Salmonella poisoning.
pour onto guests' plates and smile as they look at u funny
add sausages to seal the deal
drink coffee and laugh laugh laugh- and Jay..this is not FUNWEEEEEEEE


MRS. TEDESCO'S BLACK CHOCOLATE CAKE

1 CUP SUGAR
1 EGG
1/3 CUP COOKING OIL
1 CUP BOILING WATER
1 CUP FLOUR
1 TSP SALT
1/2 CUP COCOA
1 SCANT TSP BAKING SODA
MIX SUGAR, EGG, COOKING OIL, AND HOT WATER IN BOWL. MIX OR BEAT UNTIL WELL BLENDES. ADD DRY INGREDIENTS AND MIX WELL.
BAKE IN 9x8 GREASED, FLOURED PAN AT 350 FOR ABOUT HALF HOUR OR TILL TOOTHPICK COMES OUT CLEAN.
DOUBLE FOR SHEET CAKE 13x9x11...MMMMMMMMMMMMMMMMMMMMM


FRUIT COBBLER

MELT: 1 STICK BUTTER IN AN 8" SQUARE OR ROUND PAN
MIX: 1 CUP SUGAR
PINCH SALT
3/4 CUP FLOUR
3/4 CUP MILK
2 TSP BAKING POWDER
POUR MIX OVER MELTED BUTTER--DO NOOOOOOOT STIR!
POUR 2 + CUPS OF FRESH OR CANNED OR FROZEN FRUIT ON TOP OF ALL ...N BAKE AN HOUR..MMMMMMMM UMMMMMMMMMMM


MAMA KNOTT'S CRANBERRY RELISH

1 16 OZ FRESH CRANBERRIES, CHOPPED
2 CUPS FRESH APPLES, DICED
1 8 OZ CAN CRUSHED PINEAPPLE
1 CUP PECANS, CHOPPED
JUICE OF TWO ORANGES
2 CUPS SUGAR (LESS FOR TART FLAVOR)
MIX ALL INGREDIENTS AND REFRIGERATE...MMMMMMMMMMMMMMMMMMMMM


PORK N SAUERKRAUT DINNER

2 LB (5 CUPS) SAUERKRAUT, SQUEEZE OUT JUICES
1/2 LB BACON CUT IN 1/2 INCH STRIPS
PREHEAT OVEN TO 325 DEGREES
1/2 CUP SLICED CARROTS
1 CUP SLICED ONIONS
A 2 1/2 TO 3 QT COVERED, FIREPROOF CASSEROLE
4 SPRIGS PARSLEY
1 BAYLEAF
6 PEPPERCORNS
10 JUNIPER BERRIES OR 1/2 CUP GIN- OPTIONAL
1 CUP DRY WHITE WINE
2-3 CUPS CHICKEN OR BEEF BOUILLION
SALT
BAKE SLOWLY 4 1/2 HRS ...USE PORK RIBS , TOO...RATHER N LOIN...ANY PORK..BUT ONLY THE LAST HALF OF COOKING TIME IF RIBS OR SMALLER CUTS..YOU CAN HALVE THE RECIPE OR ALSO USE 1/4 LB BACON IF YOU'RE PUTTING PORK IN LATER.!
....MMMMMMMM UMMMMMMMMMMM


NY STATE..GARLAND HOTEL FAMOUS FISH BATTER RECIPE FROM GREAT AUNT ALICE

6 CUPS FLOUR
1 1/2 OZ BAKING POWDER
1 1/2 TBS SALT
1 1/2 OZ VINEGAR, WHITE
1 1/2 OZ SUGAR
MIX INGREDIENTS AND ADD ENOUGH WATER TO MAKE MEDIUM BATTER. MIX AHEAD AND LET STAND. IF TOO THICK, ADD MORE WATER. ADD FLOUR MIXTURE TO WATER FOR A SMOOTHER BATTER. COAT FISH N FRY TO GOLDEN BROWN...MMMMMMMMMMMMMMMMMMMMM


SHRIMP N REMOULADE SAUCE

SALT; ALLSPICE; PEPPERCORNS; TABASCO SAUCE; 1/2 LEMON,(JUICE N RIND OF); 15 CLOVES; 6 CLOVES GARLIC; 2 LARGE ONIONS, SLICED; 2 STALKS CELERY, BROKEN; 2 BAY LEAVES; 2 PINCHES DRIED THYME; SPRIIGS OF PARSLEY; 2 BITS OF DRIED RED PEPPER; 1 TBLSPN WORCESTERSHIRE SAUCE.
2-2 1/2 QTS WATER. PUT 1 TBLSPN SALT IN FIRST. ADD TEH OTHER 13 INGREDIENTS; BRING TO A BOIL AND SIMMER 30 MINUTES.
NEXT, ADD THE SHRIMP; BRING BACK TO A BOIL FOR 5 MIN.; COLANDER DRAIN THE SHRIMP, AND SHELL WHEN COOL ENOUGH. ( I ACTUALLY DO MY SHRIMP ABOUT A MINUTE AND A HALF IF FRESH)
REMOULADE SAUCE:
(double for 2 1/2 lb shrimp)
1/2 CUP REAL MAYONNAISE
1/2 CUP CREOLE MUSTARD (BROWN , WITH HORSERADISH)
1/8 TSP GARLIC SALT
1/2 MEDIUM ONION FINELY CHOPPED
1 TSP VERY FINELY CHOPPED CELERY
SALT N PEPPER
2 TSPN WORCESTERSHIRE SAUCE
1 TBLSPN LEMON JUICE
1/8 TSP SUGAR
2 HARD COOKED EGGS, CHOPPED
1 TSPN ANCHOVY PASTE
CHILL TO MARINATE
serve over chilled shrimp with crackers on the side...mmmmmmmmmmmmmmmmmmmmmmmmmmmmmmmmm


BREAKFAST CASSEROLE

1 CAN (8 OZ) PILLSBURY CRESCENT ROLLS
1 LB BROWNED, FRIED SAUSAGE, CRUMBLED
1 CUP FROZEN, SHREDDED HASHBROWNS OR FRESH SHREDDED PARBOILED
1 CUP SHREDDED SHARP CHEDDAR CHEESE
5 EGGS, BEATEN WITH 1/4 CUP MILK
LAYER ALL IN ORDER OR MIX TOGETHER...GOOD EITHER WAY
TOP WITH CHEESE AND BAKE 30 MINUTES AT 350 DEGREES...MMMMMMMMMMMMMMMMMMMMM


CHOCOLATE ECLAIR CAKE FROM KATHY SAPPY

1 - 8 OZ CARTON COOL WHIP
2 SMALL PKG VANILLA INSTANT PUDDING
1 ENVELOPE KNOX UNFLAVORED GELATIN
2 2/3 CUP MILK
1 CONTAINER OF CHOCOLATE ICING - I PREFER DARK CHOCOLATE
1 BOX GRAHAM CRACKERS
MIX COOL WHIP, PUDDING, KNOX GELATIN, AND MILK UNTIL CREAMY.
USE 11x9x13 PAN AND LINE WITH 1 PKG OF GRAHAM CRACKERS (WHOLE).
POUR 1/2 OF MIXTURE OVER CRACKERS- THEN PUT SECOND LAYER OF CRACKERS ON TOP.
POUR REMAINING MIXTURE OVER THOSE.
TOP WITH THIRD LAYER CRACKERS.
PUT ICING OVER TOP THE LAST LAYER AND REFRIGERATE OVERNITE...MMMMMMMMMMMMMMMMMMMMMMM


CHOCOLATE CREAM CANDIES

1 STICK BUTTER
2 BOXES 10x POWDERED SUGAR
1 CAN BORDEN'S CONDENSED SWEET MILK..THE THICK STUFF!
2/3 TO 3/4 PIECES PARAFFIN
1 LARGE AND 1 SMALL BAG CHOCOLATE CHIPS ( USE TWO LARGE IF WANT TO BE SURE TO HAVE PLENTY)
MELT BUTTER; ADD SUGAR AND CANNED MILK; KNEAD AND SEPARATE IF YOU WANT DIFFERENT FLAVORS.
IN EACH SEPARATE MIX, YOU MAY ADD ANY FLAVORS YOU LIKE...
I PREFER PEANUT BUTTER FRESH OUT OF THE JAR IN ONE AND MINT FLAVORING WITH GREEN FOOD COLORING IN THE OTHER HALF-
THOUGH ONE MAY MAKE ANY FLAVORS ONE WOULD LIKE OR EVEN WRAP AROUND CHERRIES OR NUTS!
REFRIGERATE EACH BALL OF MIXTURE 1 + HOUR TO FIRM UP BEFORE MAKING CANDY.
MELT CHOCOLATE CHIPS AND GRATED PARAFFIN IN DOUBLE BOILER
TAKE FLAVORED BALLS AND MAKE SMALL BALLS TO DIP INTO MELTED CHOCOLATE
AS YOU DIP EACH USING A TOOTHPICK, SET THE COATED BALLS ON WAX PAPER TO COOL AND REMOVE THE TOOTHPICKS ASAP.
...MMMMMMMMMMMMMMMMMMMMM


Thanks for dropping by. Any comments? Mail us! Or send us ah funny u would like to see on here.


You need winzip to unzip these files.Use this link .

You need Win Media Player. Use this link. .
Below are links to the 4 other areas.
JaKafuns(animation,video,pics)..
JKfuns wav overflow.
.JKfuns3(interactive,optical fun)
....JKfuns4 More Video & Animation.